2022 Misophonia Convention
Online
The 9th annual Misophonia Convention took place online once again this year. The dates for our informative, helpful and exciting convention were October 13th through 15th, 2022. There were many topnotch presentations from topnotch presenters with varied approaches to treating and understanding misophonia.
SEE THE LINE-UP OF OUR 2022 CONVENTION PRESENTERS!

Check out the line-up of our wonderful presenters by going to the Speaker Webpage in our Whova Convention platform.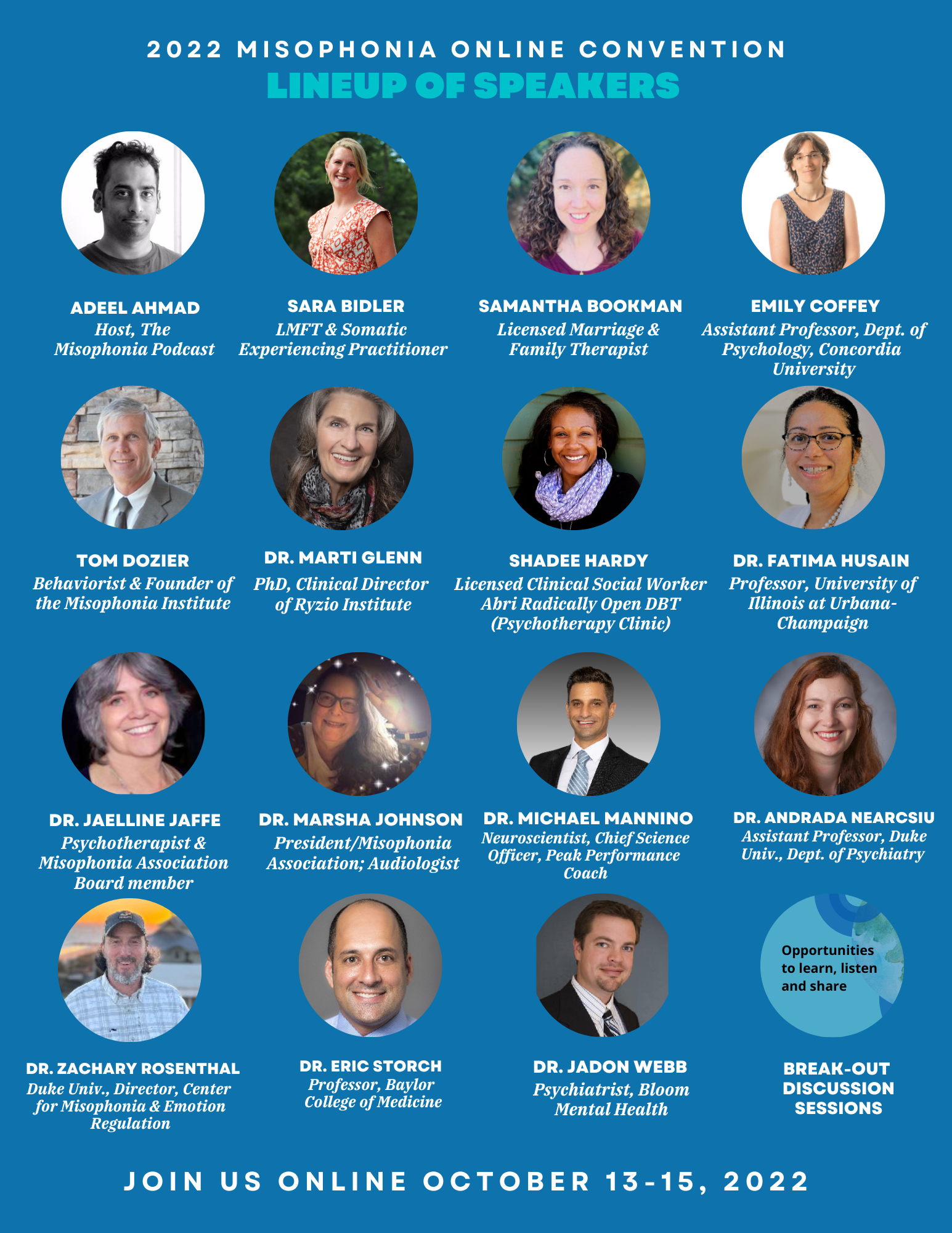 SEE THE CONVENTION SCHEDULE OF PRESENTATIONS!

Check out all the wonderful presentations by going to the Agenda Webpage in our Whova Convention platform.
2022 CONVENTION DATES:
The meet-and-greet reception was on Thursday evening, October 13 with four different zoom "rooms;" the convention presentations took place on Friday October 14 and Saturday October 15, 2022 with wonderful speakers, exciting presentations and discussion groups with varied and pertinent topics!
The convention featured the most current and relevant research and information about misophonia, including presentations from diverse fields of expertise and life, social opportunities and support from others with misophonia, and interactive sessions and activities.
Our overall goal remains to create an affordable convention that will bring you the very best in current thinking, coping, management, new knowledge, and practical sessions with useful advice and support.
PAYMENT FOR CONVENTION:
One Family/Household first device – $100

For a family's additional device – $25
You can also donate today and help make a difference! A $40 donation includes a 1-year membership to the Misophonia Association, which is a 501(c)(3) organization dedicated to nurturing sufferers of misophonia while helping professionals towards their efforts at pursuing a cure. All of the contributions we receive go towards this goal, which we pursue through Education, Advocacy, Research, and Support (EARS). To donate CLICK HERE; to become a member, CLICK HERE.
CANCELLATIONS:
If you must cancel your registration, we'll issue you a partial refund depending on when you cancel.  If you cancel before September 30, 2022, you will receive an 80% refund of your ticket costs.  If you cancel after September 30 and on or before October 1, 2022 you will receive a 50% refund of your ticket costs.  Cancellation requests will not be accepted on or after October 1, 2022.
SCHOLARSHIPS: Those wishing to apply for a scholarship towards their registration fee may contact the Misophonia Association Board at [email protected]. In your email message, please share information about yourself and the specific reasons for your scholarship request.
Got Questions?  We've got answers.  And if we don't, we'll find them.  For any questions you have about the 2022 Online Misophonia Convention, please shoot us a message at [email protected] and use the subject line to signal that your question is about the convention.
OUR CONTACT INFORMATION:
Reach us by email:  [email protected]
Follow us on Facebook:   https://www.facebook.com/MisophoniaAssociation
Visit our website:  https://misophonia-association.org