Education·Advocacy·Research·Support
Misophonia
Convention
REGISTRATION is Open
The 10th Annual Misophonia convention will finally be back in person this year
Defining misophonia is our mission. Assisting in the process of defining the condition is a huge effort in our endeavor, along with assisting those with the condition to find helpful effective management approaches. Providing a venue for support and awareness is another goal and we also try to raise funds with donations to provide to significant researchers who are hot on the trail of finding out all about this distressing disorder.
Education
Helping the world understand what Misophonia is, is our mission. We provide education through our ever-growing list of presenters on the latest research in the field of Misophonia. 
Advocacy
We stick up for you in your battle with Misophonia.  You are not alone in your struggles and we are here to lend a helping hand.
Research
Along with education the Misophonia Association helps to fund research in the field of Misophonia with help from our donors and sales of the videos of the conventions. 
Support
Above all we are here to support people who suffer with Misophonia.  We also support families and others in this situation.  You can find tremendous resources in our recorded video section from the past conventions from experts in the field.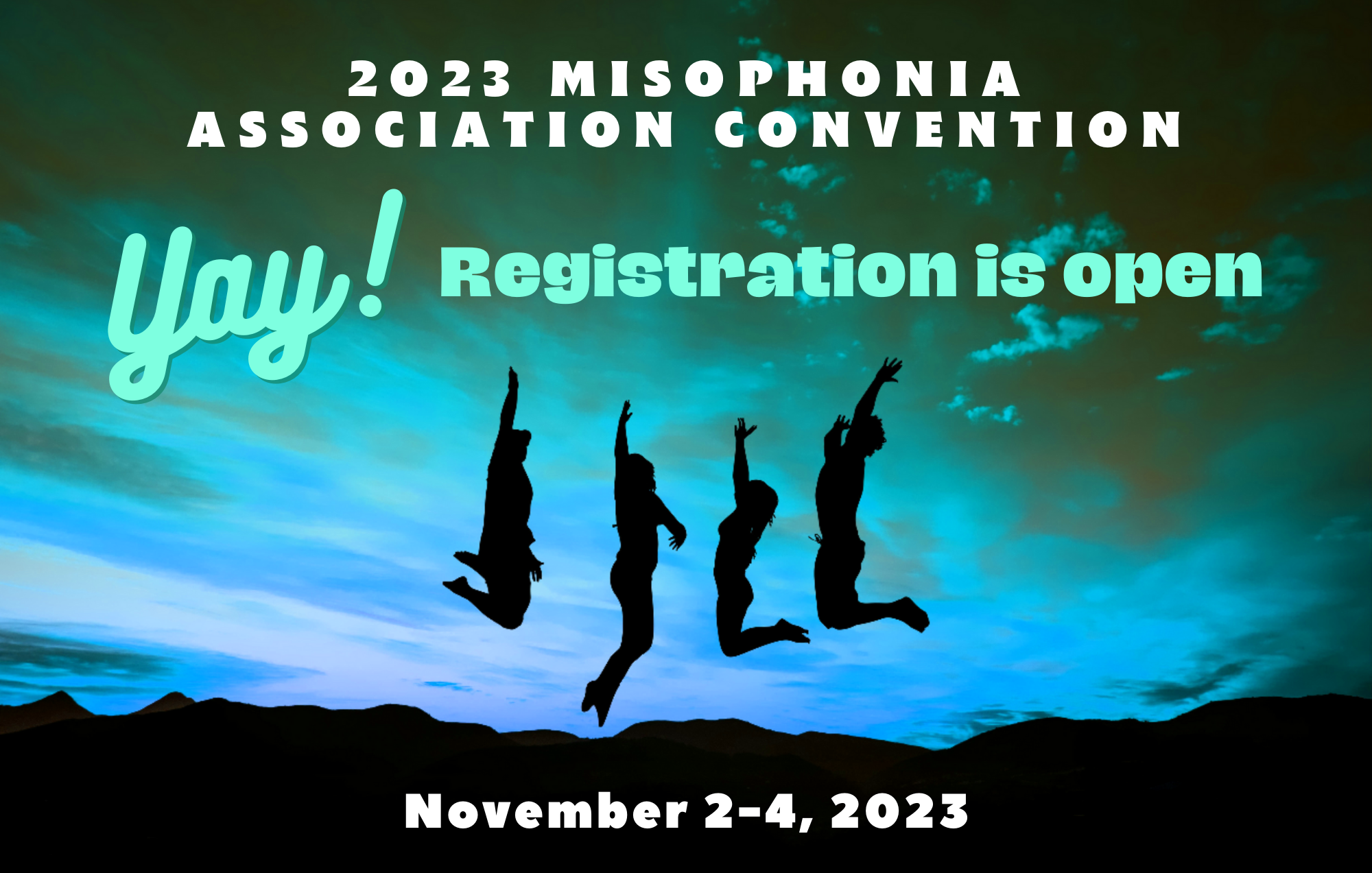 Whether in-person or online, we hope you will attend the 2023 Misophonia Convention!
YAY!!! REGISTRATION IS NOW OPEN for our 10th Annual Misophonia Convention!
The 10th Annual Misophonia convention will finally be back in person this year and will be a hybrid event allowing both in-person and online attendance. The convention will take place November 2-4, 2023. PLEASE SAVE THE DATES! We will be updating you with more information throughout the summer, so please keep your eyes here on our website or on our Facebook page.
Please keep your eye on our 2023 CONVENTION WEBPAGE for continuous updates about the convention!
Days until next Misophonia Convention
TIME TO REGISTER FOR OUR UPCOMING 2023 CONVENTION! We are so excited about all the topnotch presentations planned for our 10th Annual Misophonia Convention!
Keep your eyes out for more information about our SPECIAL CELEBRITY GUEST! We will share more about all of the presenters in our SPEAKER FEATURES over the summer and fall, so keep your eyes out for those also.
To keep informed about the convention as updates are being made, please visit our CONVENTION WEBPAGE often.
To REGISTER FOR THE CONVENTION please CLICK HERE.
Whether you plan to attend in person or virtually, we look forward to seeing all of you in November!!!
The convention will take place November 2-4, 2023 in Albuquerque, NM or you may choose to attend online.
2023 MISOPHONIA CONVENTION SPEAKERS FEATURE!
Check out these 2 outstanding presenters who will be sharing their topic about An Acceptance-Based Protocol for Misophonia!
Ezra Cowan, PsyD, specializes in the treatment of OCD and misophonia. He is a pioneer in developing a comprehensive model and therapy for misophonia that is based on psychological principles. His private practice with team member Eliyahu Serkez, Center for OCD & Misophonia, is in New Jersey.
Eliyahu Serkez, Counselor, LAC, MHC, is a
clinician at the Center for OCD & Misophonia. In his own words he says, "Throughout my career I have dedicated myself to treating those who feel stuck and controlled by anxiety, OCD, misophonia and past traumas because I recognize the profound impact these conditions can have on one's life.
As a therapist, I have guided clients through similar journeys of healing. Drawing from my post-graduate training, I use empirically supported treatments – primarily cognitive behavioral, acceptance and mindfulness-based approaches (CBT, ACT, MBCT and ERP) to treat anxiety, OCD, misophonia and complex trauma."
Their Presentation:
EASE Your Miso: An Acceptance-Based Protocol for Misophonia (with Eliyahu Serkez, MHC)
Many wonderful presenters await you at the convention, which will take place November 2-4, 2023 in Albuquerque, NM or you may choose to attend online.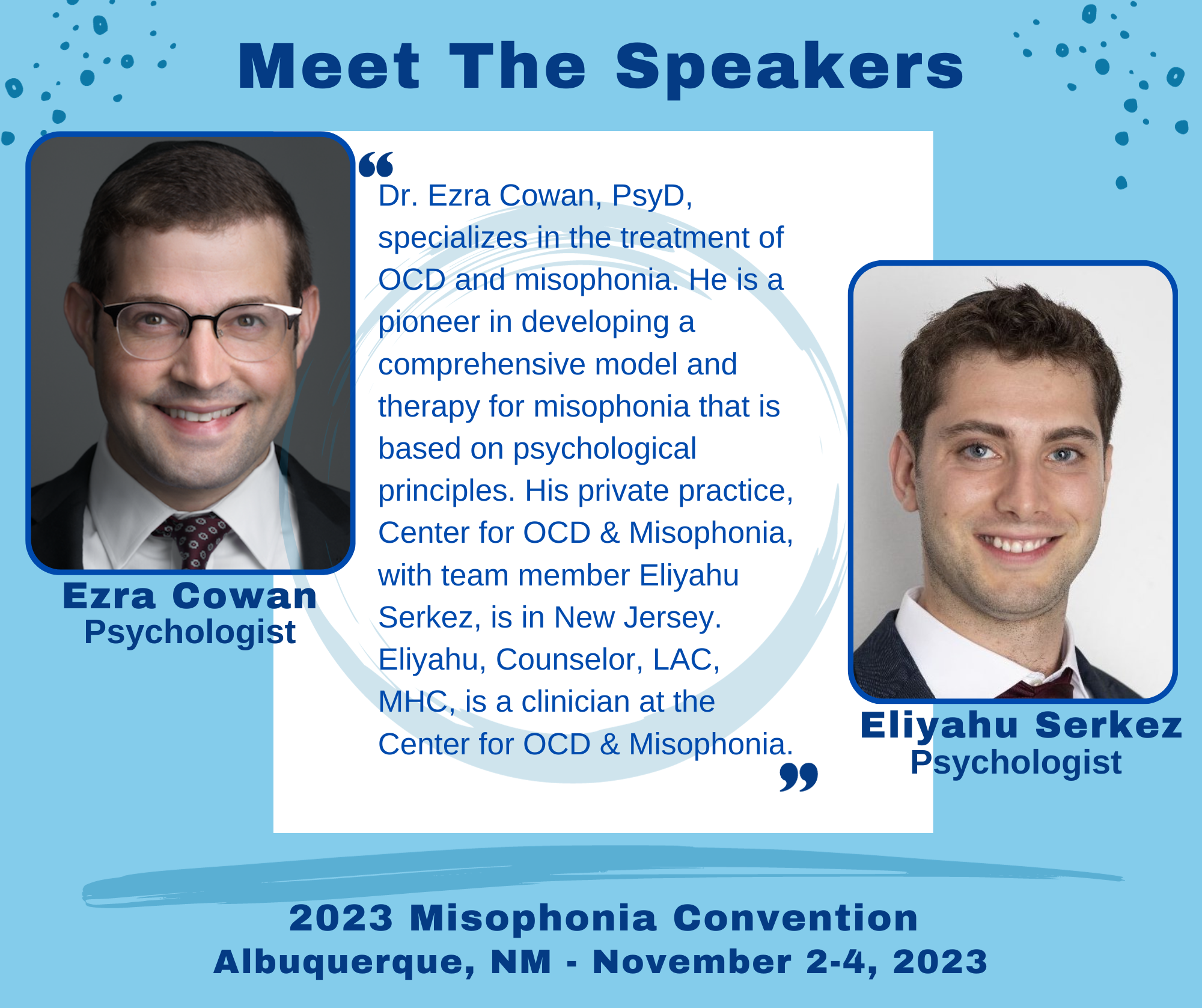 MISOPHONIA VIDEOS ALL-ACCESS MEMBERSHIP INFORMATION
ANNOUNCING…
15th Live Q&A with Shahrzad Cohen, AuD on September 24th!
We would love for you to join us for our next Exclusive All-Access Member's Live Q&A happening Sunday, September 24th at 9:30 am Pacific Time (12:30 pm Eastern Time) with Shahrzad Cohen, AuD! Dr. Cohen is a Board Certified Doctor of Audiology in California and is listed in the Provider Directory of the MIsophonia Association. In Dr. Cohen's own words, "I can offer personal tools & strategies to deal with a noisy world to lead a normal social life, despite having Misophonia."
For further information about Dr. Cohen's approach and her experience in the field, we encourage you to check out her website
HERE.
You can sign-up for the membership and then you'll be able to register for this event. The All-Access Membership also gives you exclusive access to all future live events, all replays, plus all previous Misophonia Convention Videos (8 years+). 
Special offers for Misophonia Convention Videos!
Purchase the
9-year bundle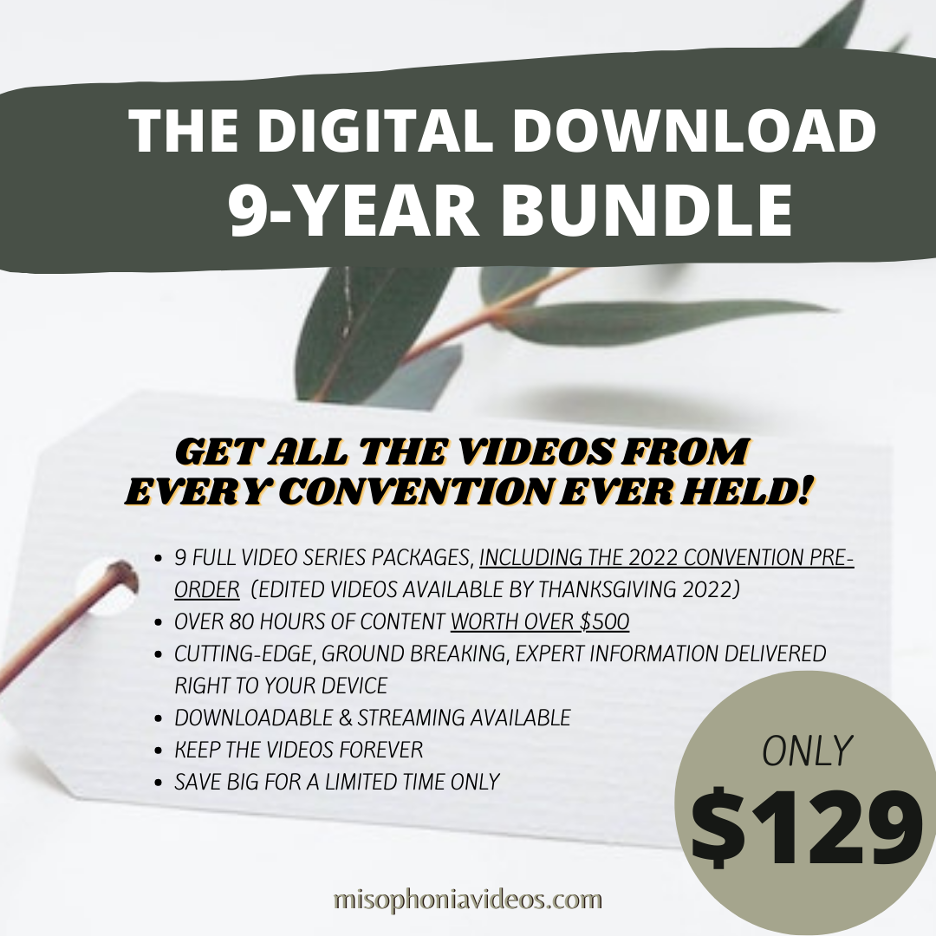 Now on sale for $129 (valued more than $500)
Become an All-Access
Monthly Member
ENTER THIS COUPON CODE at checkout: newby2023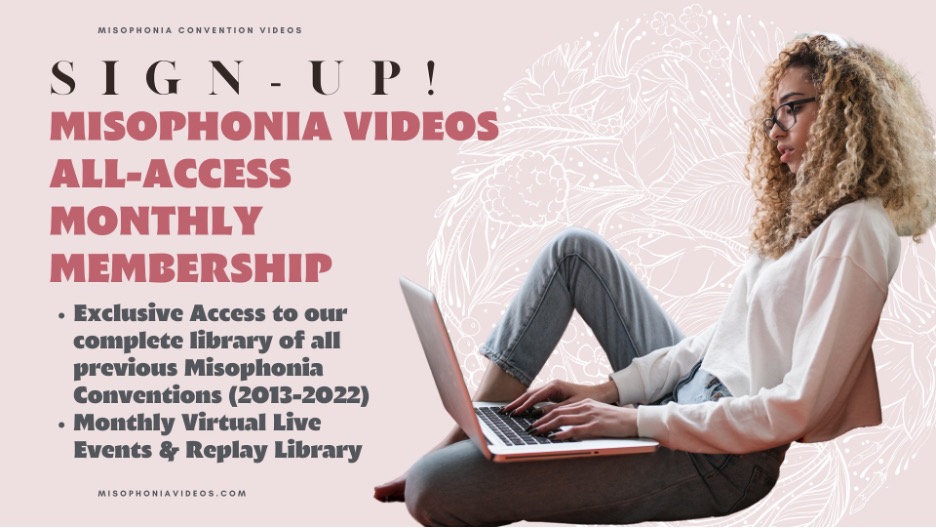 Now on sale for $9 per month (normally $11 per month)
All the conventions at your fingertips
All of the conventions are recorded and bundled together for your viewing for eternity. From the very first convention to the most recent information. Help support the Misophonia-Association and check out the collections in the link below. 
This collection of videos from our past annual Misophonia Association Conventions features the combined brain power of the best doctors and researchers that specialize in Misophonia Research and Treatment. As the conventions continue to grow, most importantly so does the knowledge and cutting-edge methods and technology to bring treatment for misophonia closer to a reality.
Creating a space for experts and the people that they can help.
Statistics up to the last conference 2022
Cups Of Coffee drunk silently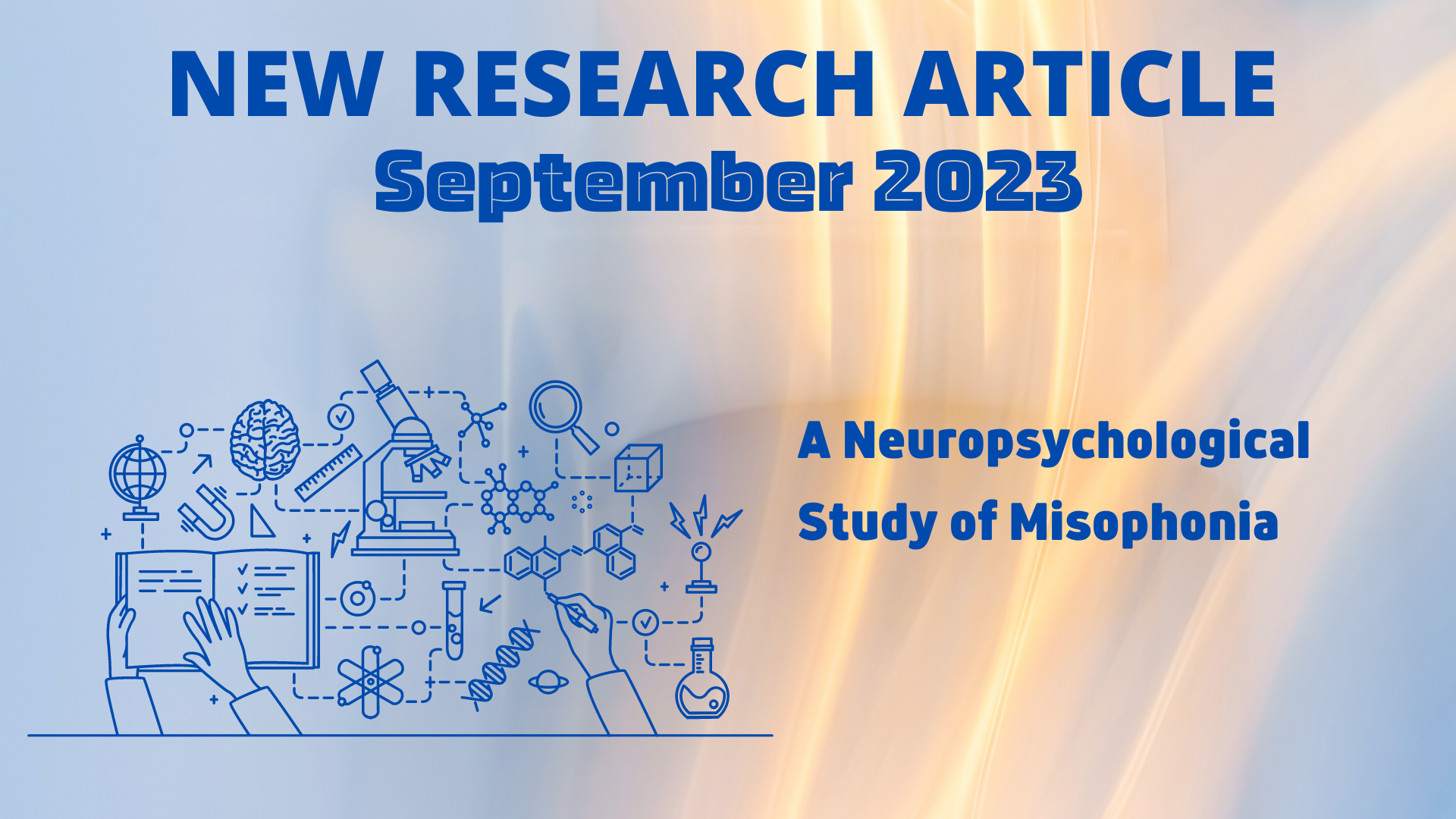 Latest Research
"A Neuropsychological Study of Misophonia"
The goal of the present study was to conduct the first neuropsychological study of misophonia in the context of 'cold' cognitive function. You can learn more about the research by reading the full article.
Article by Amitai Abramovitch, Tanya A. Herrera, and Joseph L. Etherton; Department of Psychology, Texas State University, San Marcos, TX, USA
[Journal of Behavior Therapy and Experimental Psychiatry], August 2023
Note: The views expressed in this article are those of the authors and are not necessarily reflective of the Misophonia Association.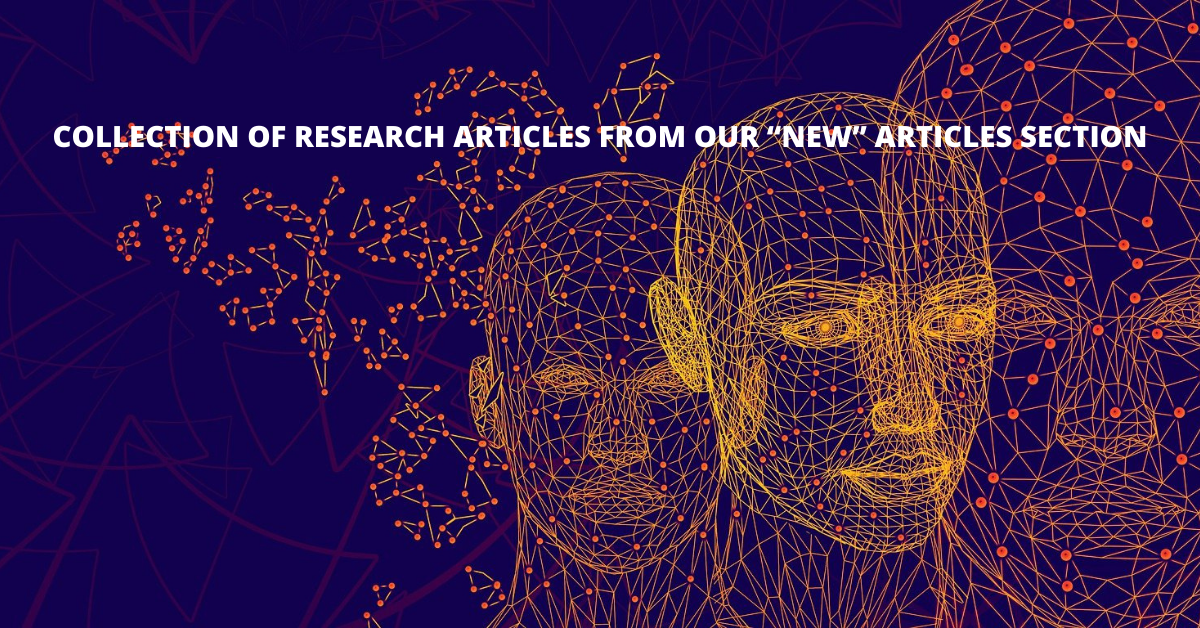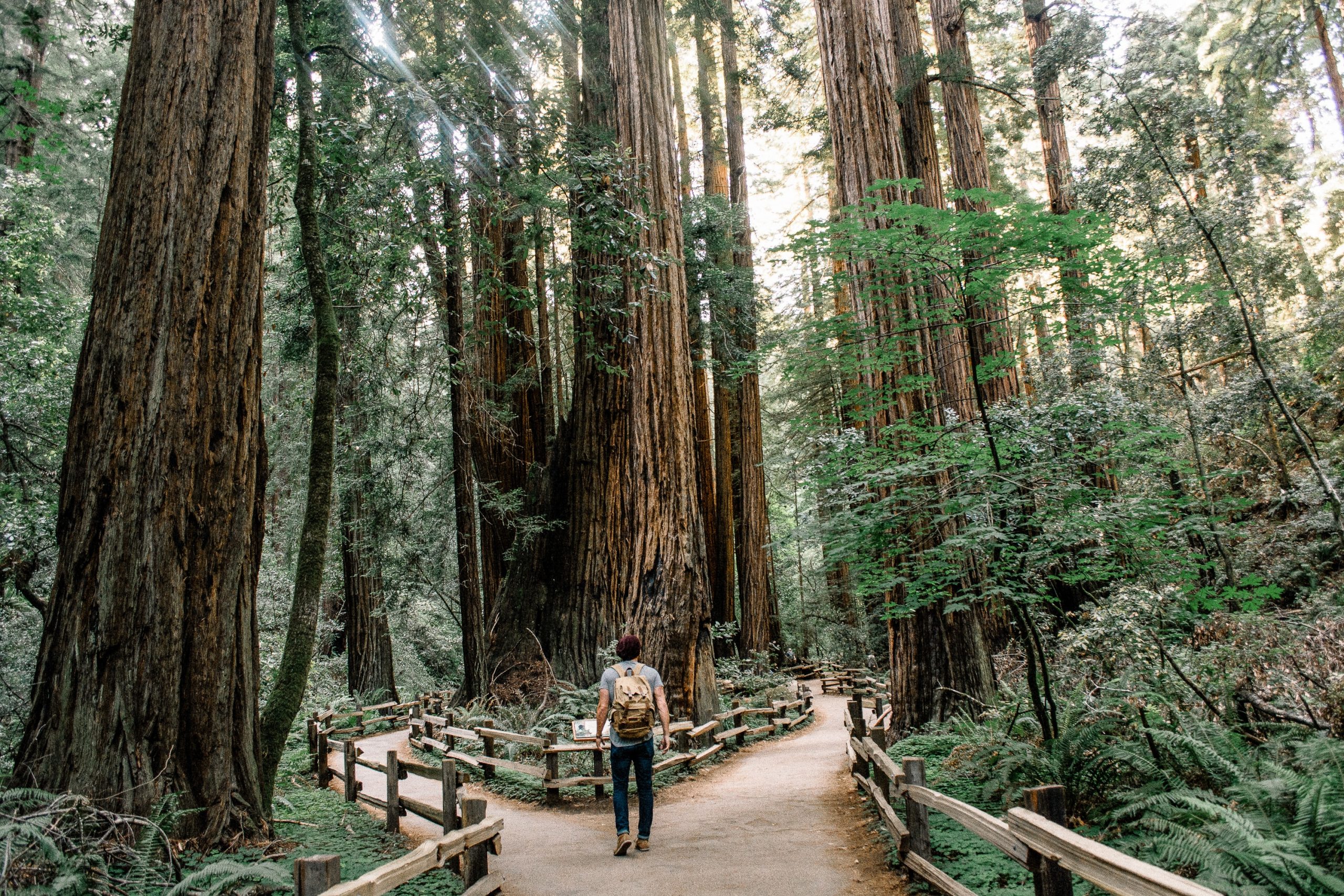 "Pride makes us artificial and humility makes us real."                                   
– Thomas Merton
Connect with us for the 

Latest Information
Please continue to join us in our steady and mindful journey towards unbiased knowledge, effective treatment and a potential cure for misophonia. The Misophonia Association is funded with volunteer effort and donated time and funds. Our non-profit association's goals and mission include Education, Advocacy, Research and Support.