Education·Advocacy·Research·Support
The Misophonia Association is a non-profit organization that was founded in October 2013 in Portland, Oregon after the first Misophonia Convention. 
Defining misophonia is our mission. Assisting in the process of defining the condition is a huge effort in our endeavor, along with assisting those with the condition to find helpful effective management approaches. Providing a venue for support and awareness is another goal and we also try to raise funds with donations to provide to significant researchers who are hot on the trail of finding out all about this distressing disorder.
Education
Helping the world understand what Misophonia is, is our mission. We provide education through our ever-growing list of presenters on the latest research in the field of Misophonia. 
Advocacy
We stick up for you in your battle with Misophonia.  You are not alone in your struggles and we are here to lend a helping hand.
Research
Along with education the Misophonia Association helps to fund research in the field of Misophonia with help from our donors and sales of the videos of the conventions. 
Support
Above all we are here to support people who suffer with Misophonia.  We also support families and others in this situation.  You can find tremendous resources in our recorded video section from the past conventions from experts in the field.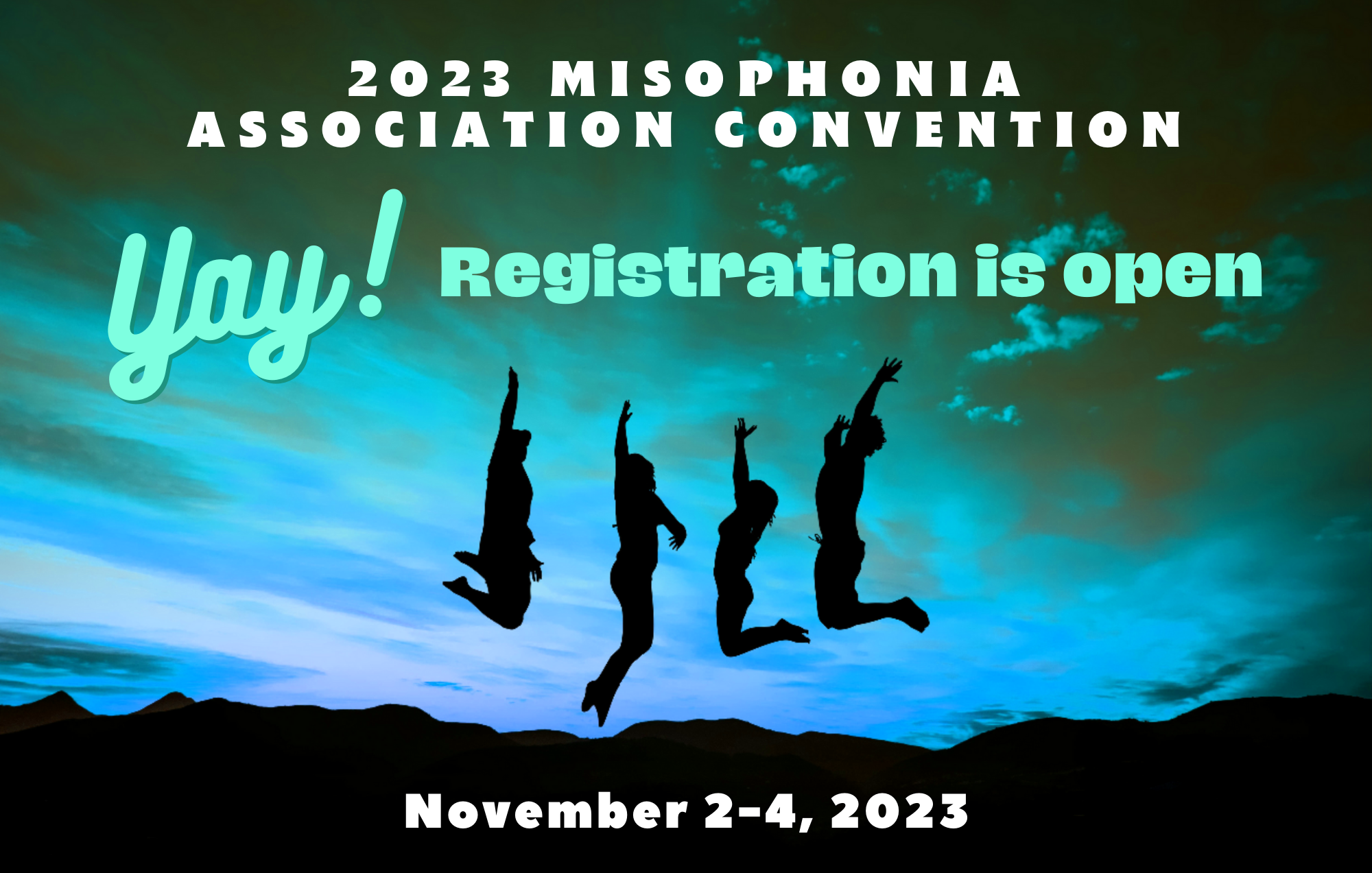 YAY!!! REGISTRATION IS NOW OPEN for our 10th Annual Misophonia Convention, which will finally be back in person for 2023! It will be a hybrid event allowing attendees the option to attend online also.
The 10th Annual Misophonia convention will take place November 2-4, 2023. PLEASE SAVE THE DATES! The 2023 convention will be a hybrid event allowing both in-person and online attendance. We will be updating you with more information throughout the summer, so please keep your eyes here on our website or on our Facebook page. To register for the convention, whether in-person or online, PLEASE CLICK HERE!
Please keep your eye on our 2023 CONVENTION WEBPAGE for continuous updates about the convention.
Days until next Misophonia Convention
UPCOMING FREE ONLINE CLINIC IN JUNE
Registration is now open for this helpful and informative free online clinic! Everyone is invited and all you need to do is register in order to attend. The clinic will take place on June 4 from 12:30 to 2 PM Pacific Time. You will have the opportunity to have your questions answered by three professionals in the misophonia field.
It's not too late to join our next Live Q&A on May 21st!
Sign up to join us for this month's All-Access Member's Live Q&A with Ezra Cowan, PsyD, happening Saturday at 8:00 AM Pacific Time (11 AM Eastern Time). Dr. Ezra Cowan is a licensed clinical psychologist and is listed in the Provider Directory of the Misophonia Association. You can sign-up for the membership and then you'll be able to register for this event.
CARE for Misophonia Day!
Sponsored by SoQuiet.org
May 16th • 2023, 9am – 6pm EST
The "CARE for Misophonia Day" is an open, one-day event where leading misophonia researchers share their work with you!
No Charge. Registration Required. Open to All.
Simply click on this link to register: https://www.soquiet.org/care
Special offers for Misophonia Convention Videos!
Pre-order 2022
Misophonia Convention Videos
Now on sale for $39 (normally $59)
Purchase the
9-year bundle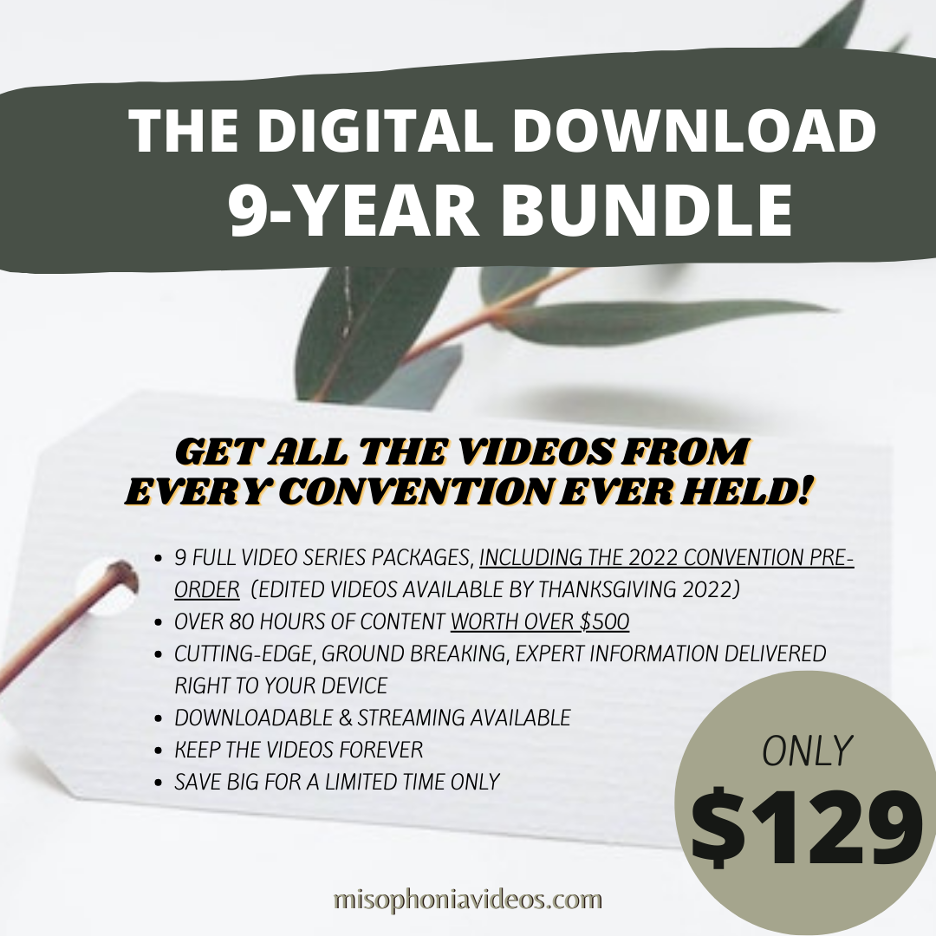 Now on sale for $129 (valued more than $500)
Become an All-Access
Monthly Member
ENTER THIS COUPON CODE at checkout: newby2022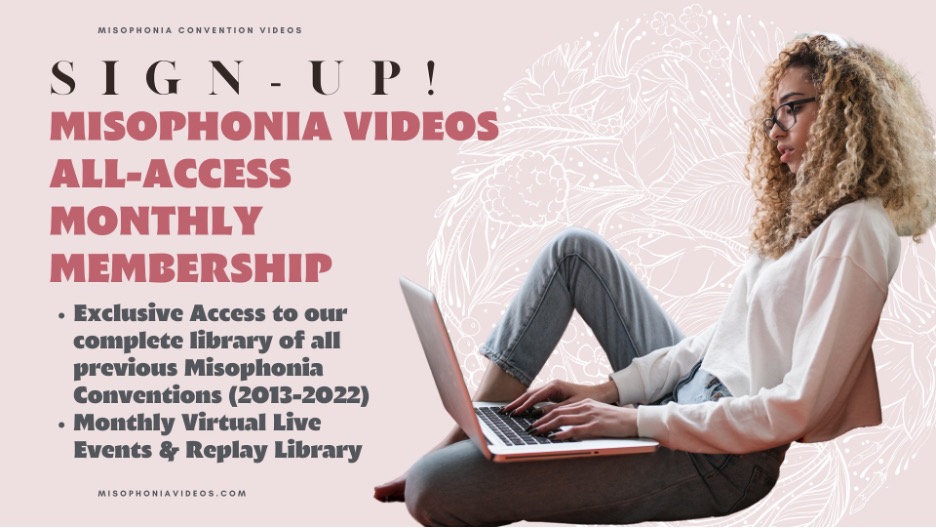 Now on sale for $9 per month (normally $11 per month)
All the conventions at your fingertips
All of the conventions are recorded and bundled together for your viewing for eternity. From the very first convention to the most recent information. Help support the Misophonia-Association and check out the collections in the link below. 
This collection of videos from our past annual Misophonia Association Conventions features the combined brain power of the best doctors and researchers that specialize in Misophonia Research and Treatment. As the conventions continue to grow, most importantly so does the knowledge and cutting-edge methods and technology to bring treatment for misophonia closer to a reality.
2023 calendar is still available!

After posting a "Call for Art" last fall, this beautiful calendar has been created with the artwork sent from artists of all ages from the misophonia community. Each month features the artwork of one person, along with their artist's statement. We hope you will enjoy the variety of beautiful art throughout 2023!
Creating a space for experts and the people that they can help.
Statistics up to the last conference 2022
Cups Of Coffee drunk silently
Latest Research
"The neurophysiological approach to misophonia: Theory and treatment"
In this study, the following topics are discussed:
definitions of misophonia
neurophysiological model of DST (decreased sound tolerance) both for misophonia and hyperacusis
critical assessment of the results of TRT (tinnitus retraining therapy)
proposed lines of future works and investigations
Article by Pawel Jastreboff and Margaret M. Jastreboff
[Frontiers in Neuroscience], March 2023
Note: The views expressed in this article are those of the authors and are not necessarily reflective of the Misophonia Association.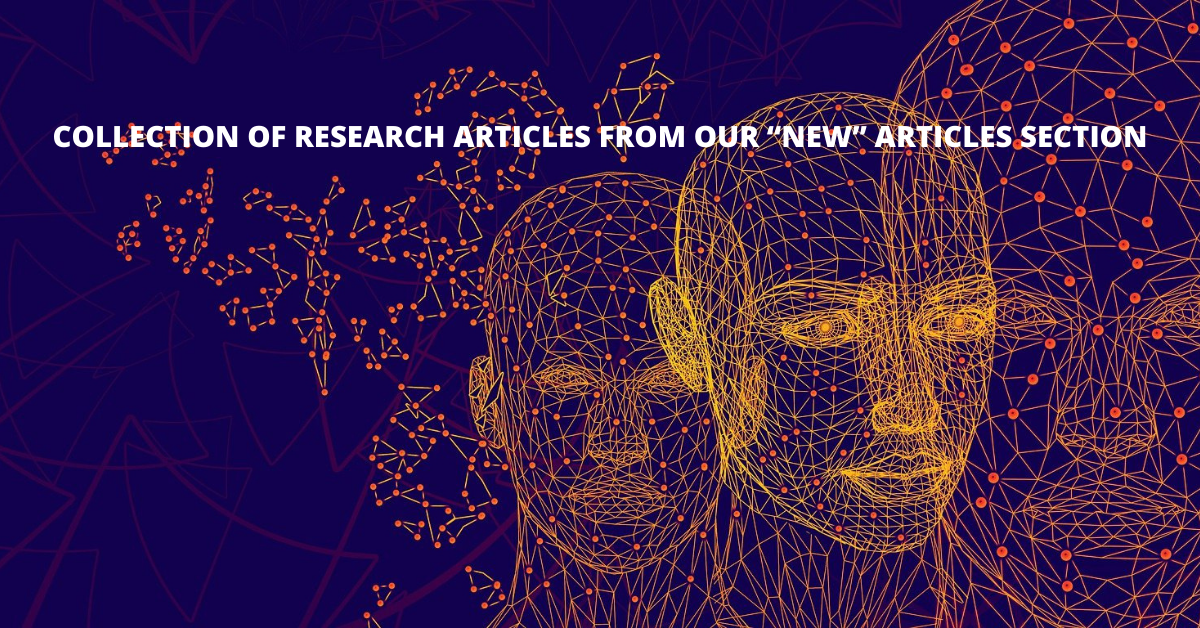 Connect with us for the 

Latest Information
Please continue to join us in our steady and mindful journey towards unbiased knowledge, effective treatment and a potential cure for misophonia. The Misophonia Association is funded with volunteer effort and donated time and funds. Our non-profit association's goals and mission include Education, Advocacy, Research and Support.